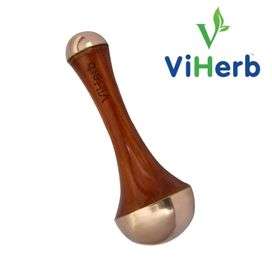 Handmade kansa and wood relaxing tool Made in India Handmade kansa and wood relaxing tool Made in India The Kansa Wand works wonders for giving you a youthful face, stress-relief and total skin and mind-body rejuvenation
No chemicals, electronic gadgets or any kind of unnatural or harmful radiations used, ✔️ Use with massage oil of your choice lightweight, easy to carry makes for an elegant gift
Easy to use: Smear some massage oil on the foot or any other area to be massaged then massage with the bronze massager, ✔️ Handmade kansa and wood relaxing tool Made in India
Natural Detox:- Regularly detoxifies your skin by deeply cleansing to draw out toxins & accumulated acidity. The ultimate Ayurvedic treatment for perfect skin and wellness.
Natural Face-lift:- Use the smaller side of the wand to indulge in a quick mini facial to revitalize & plump skin, soften fine age lines, de-puff eyes, firm the jawline & cheekbones, tone facial muscles, detox to prevent breakouts and promote collagen. Can also be used at the nape of the neck to relax tensed muscles and promote lymphatic drainage.
Body Toning:- Makes the body firm and toned by promoting collagen, reducing cellulite and fat deposits. Increases blood flow & assists lymphatic drainage bringing fresh oxygen to the skin and a revived energy flow.
Provides Complete Relaxation:- Relaxes the mind, relieves tension, improves blood circulation, aids in better sleep and helps to detox by stimulating marma poins.
Copper:- Massaging your skin with copper helps in reducing pain of strained muscles and draw out body heat and eliminate toxins
Massaging your body with tin relieves stress, reduces the intensity of a headache and can aid better sleep.
Sustainable Wood :- Handcrafted, ergonomically designed handle from sustainably sourced wood.