Viherb Kumkumadi Tailam
Kumkumadi Oil (also called Kumkumadi Tailam) is an Ayurvedic facial oil. It provides cosmetic as well as therapeutic effects for the skin without causing any damage. Besides nourishing the skin, it also works as a cleanser, toner, and moisturizer. It's a wonderful blend of plant, flower, fruit, and milk extracts, make this tailam or oil a wholesome beauty product that aims towards lightening the complexion, diminishing various signs of aging like wrinkles, fine lines, dark circles, spots, pimples, blemishes, and effectively treating skin infections and conditions like hyperpigmentation, allergy, Eczegma, etc.
Purify your skin by removing all stubburn impurities with the help of Viherb Kumkumadi Tailam.
Viherb Kumkumadi is unique blend of rare oils and herbs with pure saffron formulated to help skin look young, healthy and spotless.
This very rich oil nourishes & adds radiance to the skin, Reduces dark sports, pigmentation and blemishes. Soothes your skin and leaves you with a refreshed feel
Kumkumadi Oil For Skin Brightening
The most ingredient of Kumkumadi Tailam is Saffron (Keshara), which is fabled for its ability to transform your skin tone. By rejuvenating the skin cells and promoting blood circulation, it brightens the complexion.
Treats Acne
Acne is one common skincare issue that almost every other person has been facing since forever. This oil is also known for its acne treating properties as the ingredients used in the formulation contains anti-bacterial and anti-inflammatory properties. It not only helps to treat but also reduces inflammation as well.
Studies prove that the presence of Red and Gold Saffron in Kumkumadi Oil provides radiance and a natural glow to make your skin look young and bright.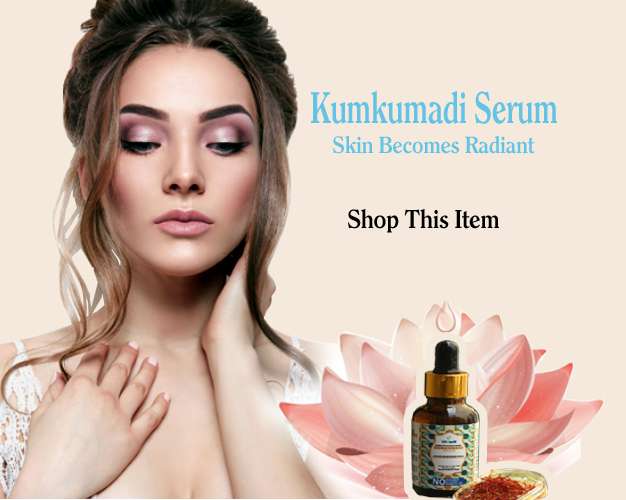 The occurrence of spots, blemishes and dark circles makes the skin look dull, aged and reduces one's self-confidence. Blemishes mostly occur due to several causes including hormonal imbalance which happens due to the Vata-Pitta doshas, exposure to the sun, unhealthy dietary choices, and aging. The umpteen herbal ingredients like sandalwood, saffron, and turmeric work effectively in improving skin health. It plays a crucial role in lightening the skin under the eyes thus reducing dark circles. Regular use of this oil evens out the skin tone and prevents further discolouration
Buy it from www.viherb.in